Leadership 3.0: The Global Aftermarket Concludes in Shanghai, PRC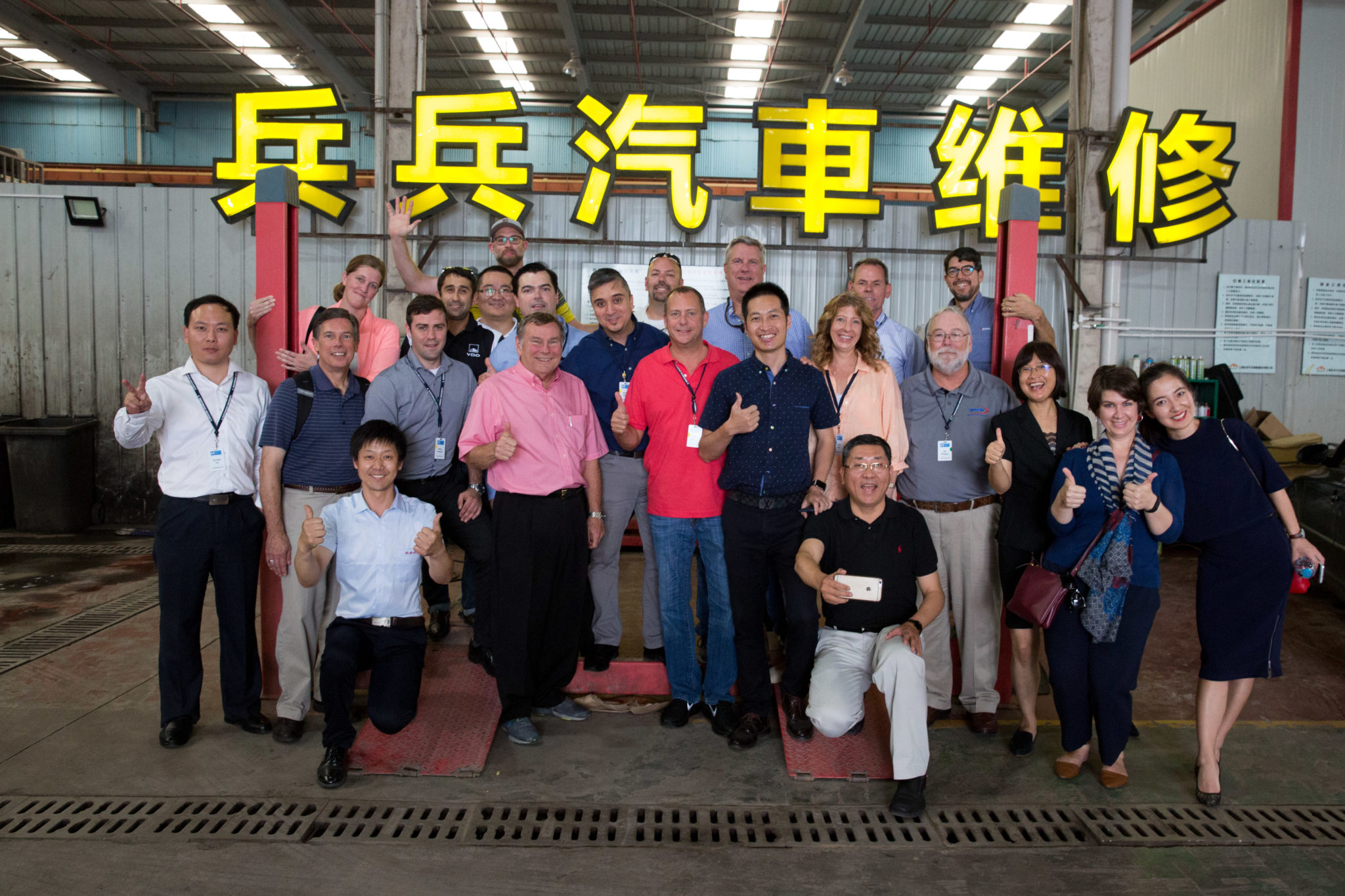 Shanghai, PRC – During the week-long Leadership 3.0 program, participants were fully immersed in the complexities of the Chinese motor vehicle aftermarket and exposed to global leadership concepts. The program ended on Friday, June 9 with a farewell dinner. The program, which began on June 3, had two primary goals: to improve global leadership skills and to understand the challenges and opportunities of the Chinese motor vehicle aftermarket. This was accomplished through in-class discussions, guest speakers, lectures and numerous guided field trips to experience various levels of the supply chain.  And as is the case with all University of the Aftermarket live programs, Leadership 3.0 had an important networking component, with participants learning from each other and their Chinese peers. This class in particular had an international flavor, with aftermarket professionals representing North America, Europe and Asia.
The Leadership 3.0 class included:
Amy Antenora, Babcox Media
Jamie Ardis, AGS Company
Blake Buller, Parts Authority
Bill Flaherty, Wonh Global Industries
Rick Guirlinger, Bourke Services
Mike Harvey, Mann & Hummel
Bill Maggs, National Pronto Association
Rafael Cervantes, Chromite
Jeff Olefson, Standard Motor Products
William Qu, Sensata Technologies
Paulo Reynoso, DACOMSA
Michael Rukov, Continental
Markus Schmid, Sensata Technologies
Mike Schwab, NGK Spark Plugs
Robert Segal, Sanel Auto Parts
Mark Swetich, Dana Inc.
Daniel Tristan, Tracerline
Nicole Tucker, Diesel Forward
William Young, Wonh Global Industries
Robert Zhu, Wonh Global Industries
Guest speakers covered aftermarket-specific case studies, intellectual property protection, channels of distribution, automotive service and other topics critical to understanding the Chinese aftermarket. International leadership discussions were facilitated by University of the Aftermarket faculty Frank Morgan, Ph.D.
"Based on the success of this program – and the growing importance of the global aftermarket – we hope to offer more international programs in the future," said University of the Aftermarket Director Brian Cruickshank.
Participants received 6.0 CEUs toward their Automotive Aftermarket Professional (AAP) or Master Automotive Aftermarket Professional (MAAP) designations.
For more information about Leadership 3.0 or other University of the Aftermarket programs, please contact Brian Cruickshank, Director, University of the Aftermarket, Northwood University at: (989) 430-7774 or brianc@northwood.edu.