Northwood University to Dedicate New DeVos Graduate School Building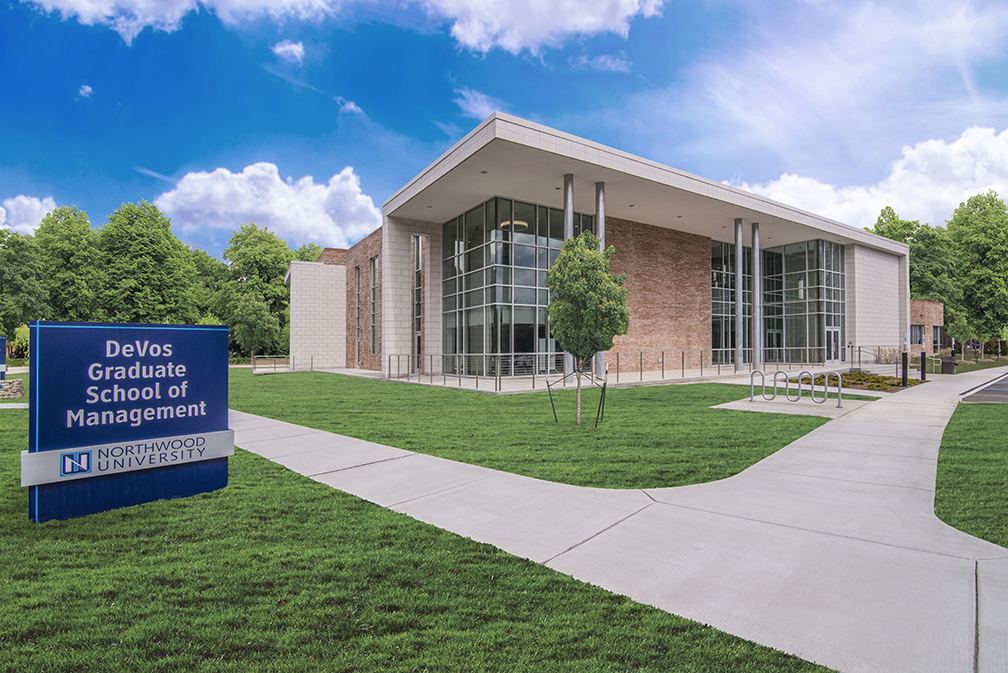 New facility primarily funded with generous gift from the Richard and Helen DeVos Foundation
On May 12, Northwood University will dedicate the new Richard DeVos Graduate School of Management building. The building is named for Richard and Helen DeVos, well-known entrepreneurs, civic leaders and philanthropists.
The 26,800-square-foot facility will offer state-of-the-art learning and administrative spaces for graduate-level programs. Large, flexible classrooms with fully integrated technology, adjacent breakout rooms, laboratories and lounges will provide learners with a variety of spaces conducive to independent, group and classroom study. The new building also will house the graduate school's faculty, administrative and admissions offices. Northwood moved the graduate school from its previous home in the former Automotive Hall of Fame building.The DeVos impact is felt throughout the university from student scholarships and academic programming, to campus buildings and capital projects, and by alumni and the community at large.
"Richard and Helen DeVos have been incredibly generous to Northwood University, and we are grateful for their ongoing support," said Keith A. Pretty, president and CEO of Northwood University.  "The modern, high-tech DeVos Graduate School building represents a big step in upgrading our campus facilities. Northwood is committed to offering a first-class learning environment to our current and future students."
Construction began in May 2015 and took approximately one year to complete. In the coming years, the university will launch additional capital improvement efforts including new and enhanced student housing.
Media and the public are welcome to attend the dedication ceremony, which will begin at 5:30 p.m. in front of the new Richard DeVos Graduate School of Management building on Northwood's campus at 4000 Whiting Dr. Midland, Michigan. Tours of the new facility will be offered before the ribbon cutting from 4:30-5:30 p.m.