Business Lessons Instrumental to Success, Say's Alumnus, Now COO of the LA Kings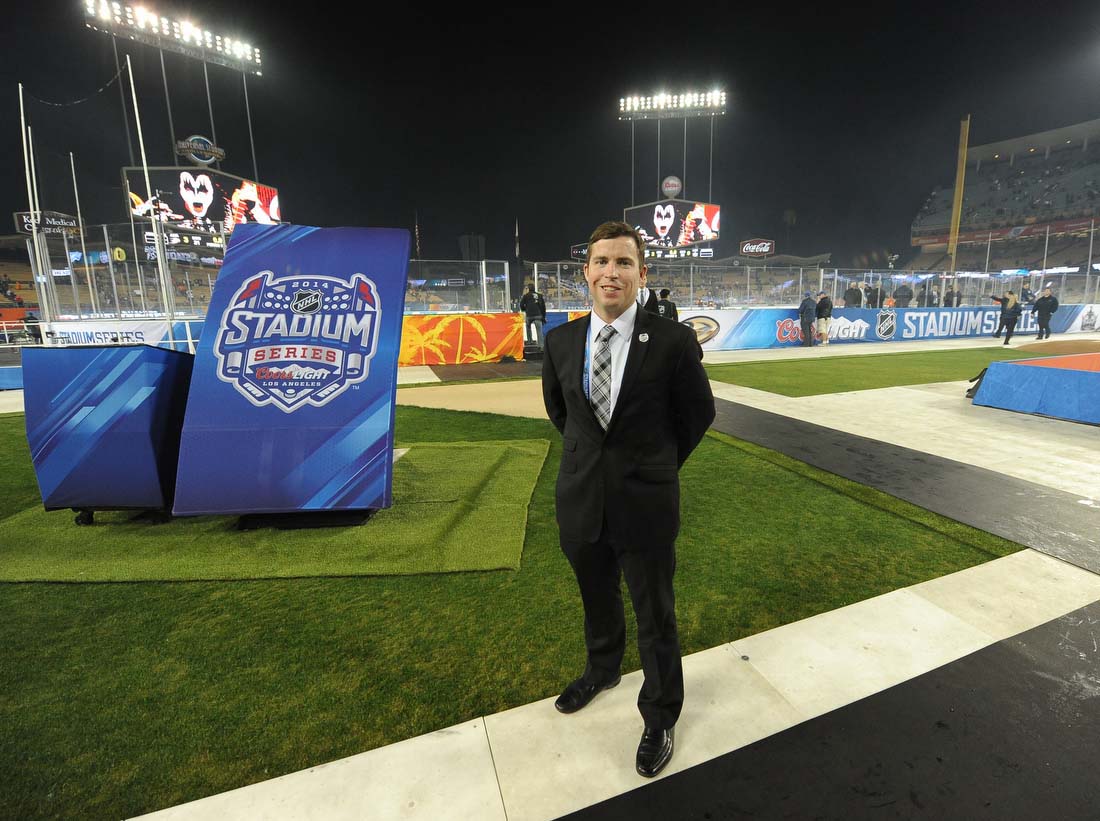 As Chief Operating Officer for the Los Angeles Kings and AEG Sports, Kelly Cheeseman is thankful for this phase of life and all of the possibilities it holds.
The Florida alumnus is married to Andrea (Feckner) Cheeseman, his Northwood sweetheart, and the two recently welcomed Emma Margaret, their first baby.
"2014 was the most incredible year of our lives, said the 2000 graduate who'd majored in Marketing Management and minored in Management Information Systems and Advertising. "The birth of Emma has changed our lives forever, and the championships with the Kings and the Galaxy were the perfect icing on the cake. We couldn't have asked for anything more. As the clock struck midnight on New Year's Eve, we reflected and realized how lucky we are," said Cheeseman, who credits Northwood's curriculum structure for providing the tools to quickly advance within the sports industry.
"NU taught me how to build a business by creating a plan, sticking with the plan, and then assembling a team and a culture to achieve the goals together. These are skills that I often notice aren't learned until one is in the business world for some time or even after an MBA education," said the former Student Athlete of the Year who was also included in the 2000 Who's Who in College Students in North America, and Sports Business Journal's 2014 40 Under 40.
And the former Seahawk baseball player's plan has proven successful. A two-time Stanley Cup Championship winner in 2012 and 2014, and Major League Soccer Championship winner in 2012 and 2014, Cheeseman joined California's minor league Rancho Cucamonga Quakes baseball team after graduation as its Marketing Manager before accepting a position with the National Hockey League's Los Angeles Kings in 2002. Quickly working his way up the corporate ladder, he soon made a name for himself by producing record sales, and increasing the team's season ticket base by 100 percent, while also directing all customer retention and service, database marketing, and customer relations management initiatives.
With the profitable accomplishments earning him his current titles, Cheeseman now directs the Kings' various business departments with the goal of maximizing club revenues. In addition, he manages multiple sports teams and events including the LA Galaxy, Amgen Tour of California, Bay to Breakers, and several European hockey and soccer franchises.
"AEG has provided me the opportunity to showcase the strong business and leadership foundation that I received at NU. The entrepreneurial spirit of NU is shared by AEG, and serves as the foundation for its current position as the largest sports and entertainment company in the world. I am so grateful to be part of such a creative organization that provides its employees opportunities to live out their dreams," he said.