Northwood University Presents United Way's Ann Fillmore With Naegele Service Award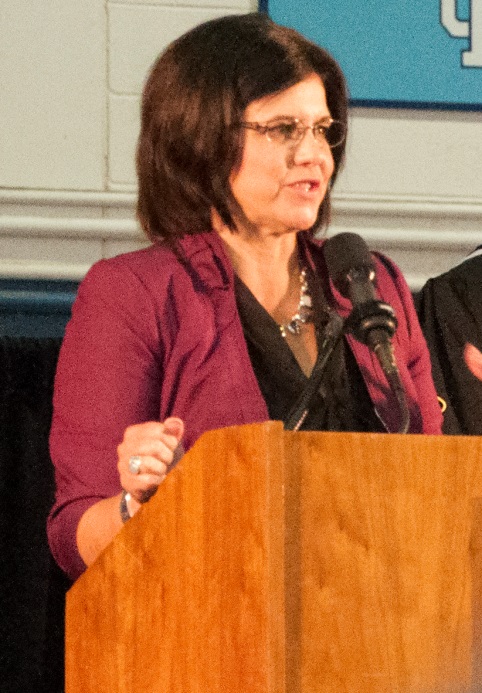 Northwood University presented United Way Executive Director Ann Fillmore with the 2014 Robert E. and Patricia L. Naegele Distinguished Community Service Award. The honor was presented to Fillmore during the school's Opening Convocation ceremony on September 2. "Ann is a role model of the values we teach both in and out of the classroom," said Northwood University Michigan Campus Interim President Larry Lindsey. "Community engagement is at the heart of who we are and no one exemplified that more this past year than Ann."
The Naegele Distinguished Community Service Award is a very important and unique honor at Northwood University," stated Lindsey.
The Michigan campus of Northwood University annually presents the Robert E. and Patricia L. Naegele Distinguished Community Service Award to a person, group or organization who by their actions enhanced the mission of Northwood University and the quality of life of its students while also improving the Midland community. The award was first given in 2005 to Northwood University Trustees Robert E. and Patricia L. Naegele for their service to the University and their generosity of time and resources, including campus facilities and academic scholarship funds.  Previous recipients include
2006:    O. Temple Sloan III and the employees of GPI/CARQUEST
2007:    Bill & Linda Stavropoulos and Bill & Bette Fisher
2008:    Terry Moore
2009:    R. William and Nancy Barker
2010:    Yvonne & J.W. Fisher
2011:    Geoff Brandle
2012:    Tina S. Van Dam
2013:    Ned Brandt
A graduate of Meridian High School, Ann Fillmore earned a Bachelor of Science Degree in Business Administration at Central Michigan University and started her professional career in 1985 at MidMichigan Medical Center as Director of Food and Nutrition Services.
In 2007, Fillmore was named Executive Director of United Way of Midland County following a very successful tenure as President of Junior Achievement of Central Michigan, Inc. She has served the Great Lakes Bay Region in numerous capacities including past Board of Director of 211 NE Michigan and the Midland Area Chamber of Commerce. Her current community service includes, among others, serving on the Board of Directors for MidMichigan Health and MidMichigan Urgent Care and Chair of the Operating Committee for the Community Advancement Network. She is also a member of the Health and Human Services Council, Community Success Panel, United Way Worldwide's Network Engagement Corps and Leadership Giving Advisory Council.
In 2008, she received the Athena Leadership Award from the Midland Area Chamber of Commerce for demonstrating excellence, creativity and initiative in her profession.