Dr. Duncan Shares Northwood University Vision with Community Leaders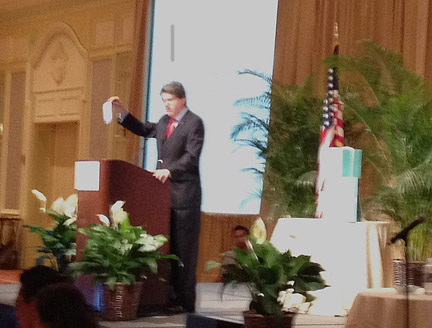 Northwood University Florida Campus President Dr. Tom Duncan recently served as a panelist and keynote speaker at two Palm Beach County leadership events designed to support the healthy growth of business and industry in the region, and the role of higher education in fostering that growth.
While serving as a panelist as part of the Palm Beach County Business Development Board's Education Breakfast, Duncan highlighted to the crowd of 300 how the University's curriculum and programs fulfill workforce needs.  He also served as a keynote speaker at the Palm Beach Chamber of Commerce breakfast and shared the University's mission and core values with a crowd of 500 community leaders.  During his remarks, Duncan informed those present about NU Florida's enrollment growth and international focus, new academic programs, and plans for growth in the year ahead.
Appointed Northwood University Florida Campus President in July, 2012, Duncan previously served as President of Bethany University in Scotts Valley, California. He also taught in the Graduate Program in Higher Education at Ohio University, Athens, OH.
A Missouri native, Duncan earned his PhD. in Higher Education Administration from the University of Arizona in 2005; an M.A. in Political Science from the University of Missouri-Columbia in 1979; the B.A. in Government from Evangel University in 1975; and a course of study in preparation for Anglican ordination with the Anglican Church in North America (ACNA).
Previously, Duncan served as Assistant for Education & Policy Management to Missouri Governor John Ashcroft, and as Director of the Missouri Division of Professional Registration. Given his political science and government experience, Duncan has become recognized as a valued political, economic, and social commentator for CBS, ABC, NBC, and FOX television affiliates in the Palm Beach area.
Prior to his government service, Tom was Assistant Professor of Government and Public Administration at Evangel University in Springfield, Missouri. He later served colleges and universities in California, Arizona, and Ohio in various faculty and administrative capacities.
In addition to his higher education service, Duncan has remained active as an Anglican minister in religious communities in Arizona, Missouri, Ohio, Wisconsin, and now Florida.11