West Palm Beach Mayor Shares Experiences of Public Service, Local Politics, More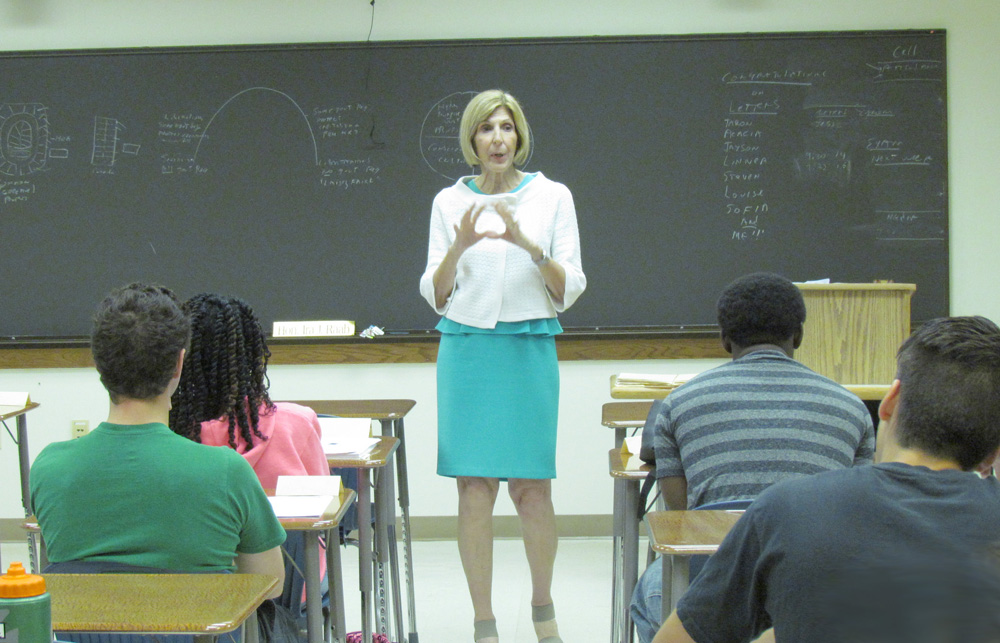 Introduction to American Government students on the Northwood University-Florida Campus recently learned first-hand how the legislative and executive branches of city government work when West Palm Beach Mayor Jeri Mouio visited their classroom to share details. Muoio, who is the Chief Executive Officer for the City of West Palm Beach, shared information relating to her background on the City Commission, her election as Mayor, the "strong mayor" form of government in which she serves, the responsibilities of working with the City Commission (the legislative branch of government which sets the policy and makes the laws), and more.
Now overseeing all city services paid by tax dollars, Muoio won 51.2 % of the mayoral vote against three opponents, avoiding a runoff election, and was elected West Palm Beach mayor in March, 2011. She is the fourth "strong mayor" in the city's history, which previously had a "strong council" form of local government.
Appointed to the West Palm Beach City Commission in 2006, Muoio was elected in her own right in 2007 and re-elected in 2009. Having worked for many years as a school district leader, she holds a doctorate in academic administration from Syracuse University and a master's degree from SUNY Oswego.
The American Government class, under the tutelage of Northwood adjunct professor Ira J. Raab, a retired Justice of the New York Supreme Court Nassau County, regularly researches the legislative, executive, and judicial branches of American government, the Constitution and the Bill of Rights, federalism, political parties, the federal bureaucracy, and other government-related subject matters. Students in the class also attend field trips to the Palm Beach County Courthouse to observe arraignments, assignment of counsel, motions, and pleas and sentences.